Global header - Canada.ca design pattern

:

Canada.ca design system
Mandatory on standard pages
The global header is at the top of each web page from the Government of Canada.
Having the same global header on all pages:
strengthens the Canada.ca brand
promotes trust
provides a unified experience on the Government of Canada web presence
allows navigation across the broad range of services and information offered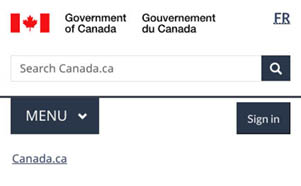 When to use
Include the global header on all Government of Canada web pages. Determine which header elements to use based on the type of page you're creating.
Standard pages

Standard pages are pages where people can navigate away without losing data, triggering errors or terminating their session.

Global header requirements for a standard page
Transactional pages

Transactional web pages are pages with an interaction task where people might lose data, trigger errors, or terminate their session if they navigate away from the page.

Global header requirements for transactional pages
Campaign pages

Campaign pages are landing pages for external marketing or advertising campaigns. The flexibility in layout allows institutions to match elements of their external campaign with the landing page.

Global header requirements for a campaign page
Implementation resources
Latest changes
Updated content design for clarity, added contextual Sign in button, added implementation resources to the global header

The small screen version was modified to a slimmer version
Thank you for your feedback