Global header - Canada.ca design pattern
Mandatory on standard pages
The global header is at the top of each web page from the Government of Canada.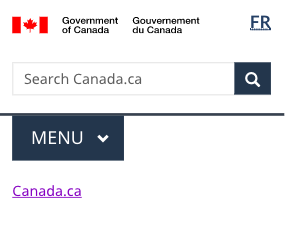 Objective
Having the same global header on all pages strengthen the global Canada.ca brand and promotes trust. It also provides a unified experience on the Government of Canada web presence and allows navigation across the broad range of services and information offered.
When to use
The global header should be on all pages from the Goverment of Canada. Some elements are optional in these situations:
Transactional scenarios: Pages where people are engaged in a transactional process such that mistakenly following other links would result in errors, loss of data or accidental termination of the session.
Campaigns: Landing pages for external marketing or advertising campaigns. The flexibility in layout allows institutions to match elements of their external campaign with the landing page.
How to implement
If you're not on the Managed Web Service, you can implement the global header by using the Centrally Deployed Templates Solution (CDTS).
Follow these requirements:
Global header requirements
Header element
Standard page
Campaign page
Transactional page
Government of Canada signature (linked to Canada.ca home)
Mandatory
Mandatory
Mandatory, but link to Canada.ca home page is optional
Language toggle
Mandatory
Mandatory
Mandatory

table 1 note

1
Site search box
Mandatory
Optional
Optional
Theme and topic menu
Mandatory
Optional
Optional
Breadcrumb trail
Mandatory
Optional
Optional
Background colour (white)
Mandatory
Optional
Mandatory

Table 1 Notes

Table 1 Note 1

Transactional web applications must be developed so that people can toggle between official languages on any given page or screen. Some legacy web applications may not have been designed this way. Such applications should be updated to allow this functionality. Until they are replaced or updated, the language toggle can be omitted if its use would result in a loss of data.
Latest changes
2020-06-25: the small screen version was modified to a slimmer version