Site footer - Canada.ca design pattern
From: Treasury Board of Canada Secretariat

Mandatory on standard pages

The global (site-wide) footer at the bottom of each web page contains links to Government of Canada corporate content, and to Government of Canada content repositories.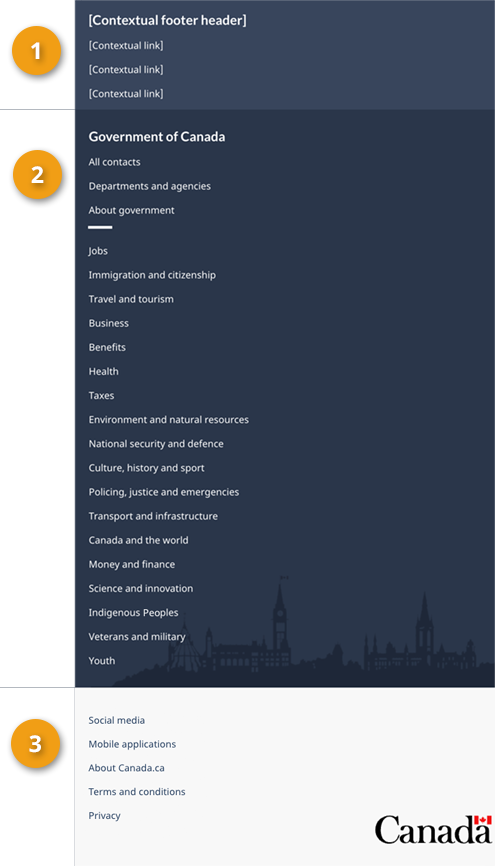 Objective
The purpose of footer navigation menus is to help people discover government-related content contained in the deeper parts of the site's user navigation model. The footer menus also provide direct, centralized access to GC-wide tasks (for example, Contact us, News, Open government).
When to use the site footer
The site footer should be on all pages from the Goverment of Canada. Some elements are optional in these situations:
Transactional scenarios: Pages where people are engaged in a transactional process such that mistakenly following other links would result in errors, loss of data or accidental termination of the session.
Campaigns: Landing pages for external marketing or advertising campaigns. The flexibility in layout allows institutions to match elements of their external campaign with the landing page.
Footer links
Government-wide tasks and government links have been prioritized according to demand, derived from search logs and web traffic data. They appear in the following order:
Contact us
Departments and agencies
Public service and military
News
Treaties, laws and regulations
Government-wide reporting
Prime Minister
How government works
Open government
Sub-footer links
Utility links appear after links to government-wide tasks and government links, in the following order:
Social media
Mobile applications
About Canada.ca
Terms and conditions
Privacy
Other footer elements
The Canada wordmark is prominently featured in the global footer across all pages of Canada.ca. This serves to reinforce the brand and provide an additional cue to people that they are reading content from the Government of Canada.

On smaller screens, a "Top of page" link is presented in the footer area, along with the Canada Wordmark.