Adding structured data on Canada.ca pages
Adding structured data to a webpage can help deliver better answers to people.
What is structured data
Structured data is a way to tag content in a "machine-readable" way.

It helps search engines make sense of the page by allowing you to add information that clarifies the meaning of the content.

It should help deliver:
better and more informative search results (often in Google and Bing)
better voice search results (for services like Alexa and Google Home)
Search engines control how search results appear and what gets featured in snippets. Adding structured data may or may not change search results.
Example of a rich snippet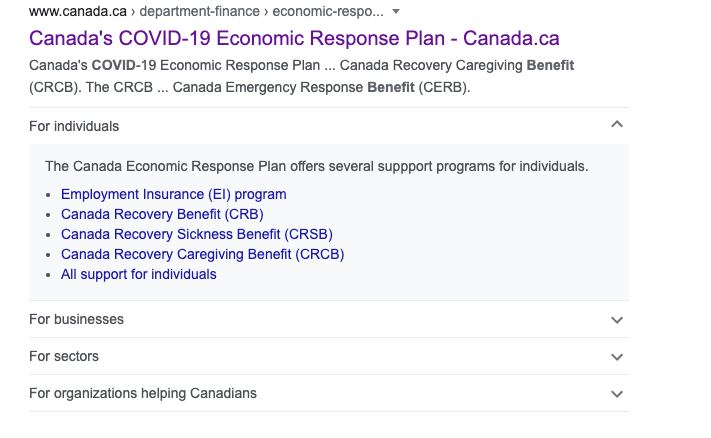 Example of a rich snippet: searching for "covid benefits"

When searching for "covid benefits" on Google, you may get a rich result that shows different sections that can be expanded to provide specific links. Expanding "For individuals" reveals 5 links:

Employment Insurance (EI) program
Canada Recovery Benefit (CRB)
Canada Recovery Sickness Benefit (CRSB)
Canada Recovery Caregiving Benefit (CRCB)
All support for individuals